Junior Golf
---
When did I start playing golf ? Answer - when I was 4yrs of age!
What was my goal when I was a junior ? Answer - To hit my drive over the burn at the 1st hole at East Ren!
A wee boy with big ambitions BUT everyone has to start somewhere ....
In my professional career, I've always been hugely committed to developing junior golf and in my professional opinion, age isn't a factor - kids can learn at ANY AGE and stage. I have seen kids as young as age 8/9 hitting the ball further than a 12 year old BUT the key question is how do we as coaches (and parents) develop their skills so they can enjoy the great journey golf brings us.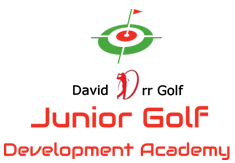 Our JUNIOR GOLF DEVELOPMENT ACADEMY takes place on Saturday afternoons. This programme is designed for the kids who are older than 10yrs of age. With structured classes according to abilities, we welcome kids to the following categories:
The Beginners Group
The Development Group
The Intermediate Group
The Advanced Group
The class times in the winter are slightly shorter at 45 minutes to allow for the darker afternoons, however, usually the duration is 1 hour per class.
If you're interested to find out more about the junior coaching structure, please contact me and I can provide details.
Coaching Dates for Season 2021
We run four classes which range from Beginners through to Advanced and each class is one hour. IF you're interested to sign up for the coaching, please contact me via our lessons booking form here